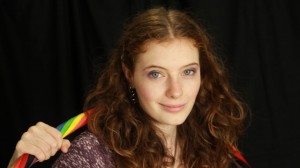 I am a Costume Design Major at Boston University. I have always been an artist of some kind, so my interests include a large range of artistic abilities, including sewing, millinery, fine art, and scenic construction. I have a passion for my work, the environment, science, and travel. I want to experience the world and it's many cultures and transform this into my art, no matter what kind of art I might be practicing at any given time.
I was born in Austin, Texas and lived there until I was six. After that I lived on a farm in the high deserts of Arizona taking care of a myriad of animals and being home-schooled. When was thirteen, I moved to Dudley, Massachusetts for high-school. Currently I live in Boston for college, and after college I plan to spend some years traveling the world. I dream to go to Ireland more than anywhere else but nowhere is off limits.
I believe with all my heart, if you work hard enough, if you believe long enough, and never lose sight of your goals, you can do anything. I also believe magic and science are one in the same, and art is a pursuit of capturing magic in reality.
Life is made of experiences. I plan to have as many fantastic experiences as possible, and I hope to bring the same to everyone I come into contact with.