This line of clothes were drawn at my School For Fashion Design classes over the summer. They asked that I make a mini line with a theme of my choice. I picked Steampunk Wonderland with a mushroom color scheme. They are all done with watercolor and pencil.
The Riding Queen: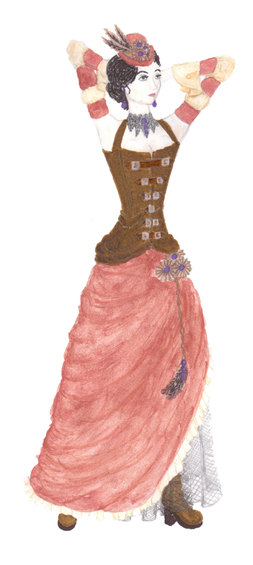 The Riding Queen is named such because I could see her going out for a nice afternoon ride side saddle. She has the most expensive outfit with thick rich fabrics. Her rust colored skirt is a thick raw silk that is bunched up on her left thigh, and left to drape down the other side to create the diagonal lines and the asymmetry. The bunch is covered with some stiff fabric flowers that were made by ruffling a brown circle and placing a rich purple jewel in the center. These same flowers adorn her hat. Her skirt has several layers, the first the rust colored top layer, then a fine silk, yellowy cream colored skirt with a ruffled edge that follows the top layer into the bunch at the left thigh. The next layer is a net covering to cover the rest of her leg. It keeps the lady's leg from being bare, but it is still quite suggestive and somewhat sexy for a lady of her stature and era. Under that layer would be the layer of petticoats to give her skirt the proper volume. Her buckled full torso corset is made of soft doeskin and the bottom folds into layers to show off her hips even more, and to help flow into the skirt as well as hide the waistband. The buckles are made as much for decoration as they are for practical use to close the corset. Her sleeves are Elizabethan inspired, the poufy silk sleeves held in place by the thick woven sections of wool that are held together by fine carved wooden buttons. Unfortunately I could not show you this feature with how I made my figure stand. Her sleeves are made of the same fine cream silk of her second layer of skirt. I put a crocheted black choker on her neck to help fill some of the space left bare by the wide square neckline made by the corset.
Soft Elegance:

This outfit has a very expensive and elegant feel, with a kind of feminine softness. I noticed most of my outfits were made for warmer weather, so I thought I should make an outfit that showed what I could see a Steampunk woman wearing in the winter. I added some French seams to the doeskin jacket to tailor it to her body, and the soft ruffle at the bottom help accent her waist shape. The skirt is nice warm wool that protects her legs from breezes. She also has warm green wool fingerless gloves, which match her green carved wooden buttons and green boots. There are pockets in her jacket to keep her hands warm and hold small trinkets. Although the buttons close her jacket, there is a zipper as well to zip up her high collar and keep her neck warm. The faux fur adds some warmth on her shoulders, and some luxury. Two fine silver chains attach to the third button up and wrap around the left side of her waist as an accent. It matches the chain bracelet on her arm that a purple gem is hanging from.
Misses Androgyny: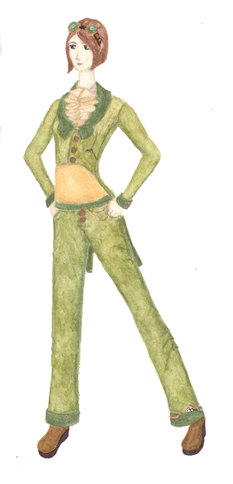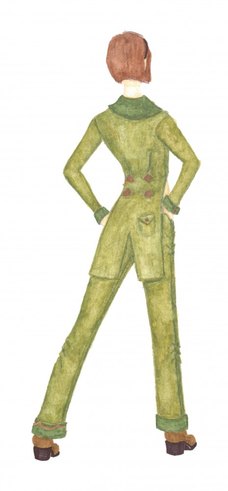 Misses Androgyny, is a well-tailored green wool suit. The buttons are bronze, and the chains attach to one pocket watch that is tucked away nicely in a small pocket, and another in her pant hem for uniqueness. The lining of her suit is a forest green silk. Her ruffle is the fine cream colored silk, and it was made separate from the undershirt. I thought that it added a good deal of charm. Her undershirt is a simple cotton shirt for comfort. Her pants have some artistic puckers on the sides and I put French seams on her jacket. The idea I had in mind while making this suit was a female pilot who was very flamboyant and a bit of a rebel. In much of Steampunk style, the women can be very feminine and lady-like, but there is an aspect where the women want to be part of the men's world, and one place where they were able to do that was in flying planes. This outfit was my expression of a more androgynous version of Steampunk.
Street Jumper: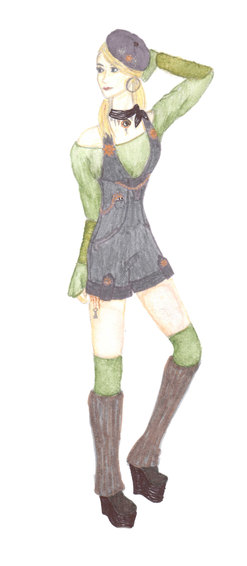 This sketch is a grey cotton jumper with a flowy green polyester shirt underneath, green knee high stockings, and grey knit leg warmers. This is my least costume like outfit because I wanted to give the option of one outfit that could be brought into a person's daily life and still show off their love of the Steampunk style. The jumper has a few baubles on it like gears, chains and keys, and the buttons on the strap are large bronze gears. The pockets are closed by zippers. I made the dramatic v-neckline on the jumper to keep it young, but I put an off-shoulder neckline on the green undershirt in order to keep some modesty and to add a show of color to fill the space. The shirt also had a poufy top sleeve and a tight lower sleeve that flair at the end to add an interesting shape. I have always appreciated the ruffle at the end of the sleeve in many previous eras, and I wanted to make a show of it on this modern piece of clothing to help make a fusion of the two.
Survivor: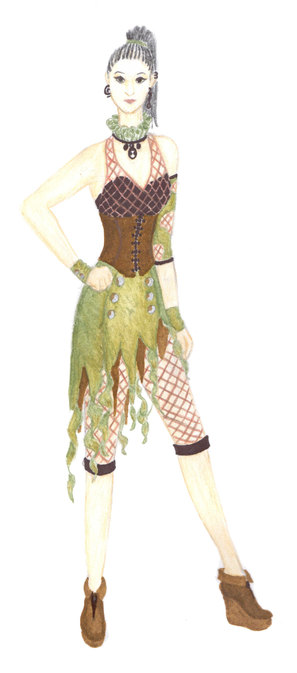 Survivor is my tribute to the post apocalypse part of Steampunk. She is dressed more scantly because she would have to conserve more material and have some trouble finding new clean clothes. She has a sturdy brown corset because she is a strong edgy woman and she would wear it almost as protection from the world, but also a show she is not afraid to be a tall, strong, and feminine woman. The back is laced, but the front also has black frogs to add decoration to the front. Her green cotton skirt has the twisted and torn tips as reference to the strange plants found in wonderland. The buttons are made of metal, and they hold the skirt to her body on two seams. The skirt comes in two parts, the back part and the front part. They come together at the buttons and are held around her that way. She then had a red underskirt underneath that is tattered. The red fishnet leggings and halter top she wears is probably something she found when scrounging around in the aftermath and she fashioned into some wearable items. She also keeps her most precious possession, a cameo pendant on a green ruffled choker. The arm bands on her arms with the bronze buttons protect her wrists.